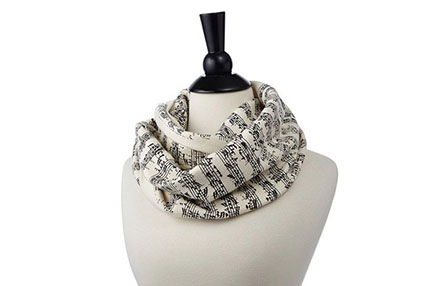 Handwritten Sheet Music Scarf
It's easy to get all wrapped up in a moving classical melody, and with these infinity scarf, you can get wrapped up in the graphically-gorgeous notation behind the music. With musical manuscripts hand illustrated by Tori Tissell, each circular scarf is silkscreened with beloved compositions. Because they are printed on both sides, the notes will overlap in intriguing folds when you layer it. You can almost feel the music's expression in the faithful reproduction of the composer's hand-written musical notation. These great transitional scarves are made from medium-weight cotton knit, with a comfy, t shirt-like texture that keeps out the chill without being too heavy. Hand printed in Portland, OR.
Pictured: Left: J.S. Bach's "Chaconne for Violin." Right: Puccini's "Madame Butterfly."
---
Top quality and fashionable scarf. Perfect for musicians!