This is a free item! You can enjoy any features for this item by just clicking the
tabs
arrows
above.
NOTE: To download, print and listen to your music, click the Sheet Music or Audio tabs above. Thank you!
Videos about Happy Birthday for piano, voice or other instruments
There are currently no videos for this item. Please, add one below... thanks!



---
Get the accompaniment video for this!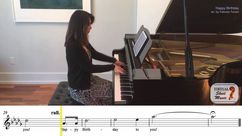 Play Happy Birthday with a real pianist!

Add to Cart Now!
Top of Page