Halloween Sheet Music Collections
V
irtual Sheet Music® offers Halloween sheet music titles ready to download and print instantly available for any instrument and ensemble. All collections include high quality digital sheet music in PDF file format as well as audio MIDI, Mp3 files and
Mp3 music accompaniment files
. If you are looking for a particular scary arrangement or transcription for the Halloween night you can't find right here,
just let us know
. We will be very happy to consider to make it for you. Happy scaring!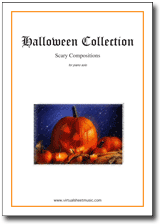 New collections will be published soon. Be sure to
join our Mailing List
to be notified when they will be ready to download. If your instrument or ensemble is not listed on this page, we can consider to prepare a Halloween Collection for you! Just
Make a Request
. Thank you!
Halloween Collections audio files:
The following audio files give you an audio preview of what's included in the above collections (in particular, they are from the Halloween Collection for violin and piano). Most collections include also
Mp3 accompaniment files
to play along with your computer or iPod. Happy Creepy Halloween!
More sheet music for Halloween or special scary events
Halloween Song
A unique arrangement of the famous, popular Halloween song. Check it out!





J.S.Bach: Toccata & Fugue in D minor BWV 565
Included in the Halloween collections above
and available separately for:





F.Chopin: Funeral March
Included in the Halloween collections above
and available separately for:





E.Grieg: In the Hall of the Mountain King (from Peer Gynt suite I)
Included in the Halloween collections above
and available separately for:





J.Brahms: Hungarian Dance No.5
Included in the Halloween collections above
and available separately for:





G.Tartini: The Devil's Trill Sonata
Available separately for:





J.S.Bach: Passacaglia and Thema Fugatum BWV 582
Available separately for:





A.Bazzini: The Dance of the Goblins
Available separately for:





L. van Beethoven: Symphony No.5 in C minor
Available separately for:





L. van Beethoven: Pathetique (Grave)
Available separately for: