Saint Patrick's Day Sheet Music Showcase
Welcome to the biggest Saint Patrick's Day sheet music showcase on the web! Enjoy our top-quality selection of Saint Patrick's Day Sheet Music and PDFs, for all instruments and ensembles, with play-alongs. Pick your instrument, skill level, and collection, and you are ready to go, with over 200 single pieces for Saint Patrick's Day. These unique, high-quality digital sheet music collections, include favorite tunes like
Danny Boy
,
The Irish Rover
,
Molly Malone
.
If you wish to print them out or download them as PDF files as well as downloading the included audio files and accessing any included accompaniment file, please add your selected item to your cart and proceed to the checkout to buy it, or Become a Member to download everything for free.
Enjoy the popular Irish celebration!

Select your Instruments

Select your Skill Level
Skill Level
Easy
About this collection:
Title:
Saint Patrick's Day Collection, Irish Tunes and Songs
Composer:
Miscellaneous
Instruments:
piano, voice or other instruments
Included pieces:
Danny BoyBlack Velvet BandThe Irish RoverJug Of PunchFinnegans WakeGirl I Left Behind MeMolly MaloneSeven Drunken NightsThe Wild RoverWhiskey In The Jar
---
Included Media Files:
---
Available actions:
Browse the Saint Patrick's Day Sheet Music Repertoire
V
irtual Sheet Music® offers Saint Patrick's Day sheet music collections ready to download and print instantly available for any instrument and ensemble. All collections include high quality digital sheet music taken from the most popular Irish tunes in PDF file format as well as MIDI, Mp3 files and
Mp3 music accompaniment tracks
. If you are looking for a particular arrangement or transcription you can't find right here,
just let us know
. We will be very happy to consider to make it for you!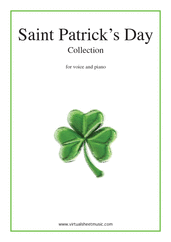 Exclusive Saint Patrick's Day sheet music collections are currently available for the following instruments:
Is your instrument not listed? We can consider to prepare a Saint Patrick's Day Collection for you! Just
Make a Request
. Thank you!
Saint Patrick's Day Collections audio files:
The following audio files give you an audio preview of what's included in the above collections (in particular, they are from the Saint Patrick's Day Collection for voice and piano). The above collections include also
Mp3 accompaniment files
to play along with your computer or iPod. Happy Saint Patrick's Day!
---