Top Quality, printable Patriotic sheet music to download instantly.
---
Popular Patriotic Categories
---
Browse Patriotic by Country
---
Browse Patriotic by Skill Level
---
Browse Patriotic by Instrument or Ensemble
---
V
irtual Sheet Music® offers US Patriotic sheet music titles ready to download and print instantly available for any instrument and ensemble. All collections include high-quality digital sheet music in PDF file format as well as audio MIDI, Mp3 files and
Mp3 music accompaniment tracks
. The US Patriotic Collections have been created for US Patriotic Celebrations or Commemorations such as the 4th of July, Memorial Day, The Presidents' Day, Veterans Day, September 11th, etc. If you are looking for a particular arrangement or transcription you can't find right here,
just let us know
, we will consider to make it for you.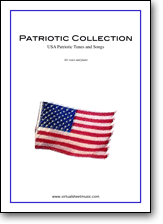 New collections will be published soon. Be sure to
join our Mailing List
to be notified when they will be ready to download. If your instrument or ensemble is not listed on this page, we can consider to prepare a Patriotic Collection for you! Just
Make a Request
. Thank you!
More sheet music for US patriotic events
The Star Spangled Banner (USA Anthem)
Included in the Patriotic Collections above
and available separately for:





E.MacDowell: To a Wild Rose
Available separately for:





H.R.Bishop: Home Sweet Home
Available separately for:





A.Gumble: I Want You Georgia
Available separately for:


Like this page?

Comments, Requests, Questions & Answers
Do you have any questions or requests about the patriotic music repertoire, the patriotic genre in general, or just a comment about this page? Please, post your thoughts in the field below, our community members and supervisors will be happy to get back to you right away!