This is a free item! You can enjoy any features for this item by just clicking the
tabs
arrows
above.
NOTE: To download, print and listen to your music, click the Sheet Music or Audio tabs above. Thank you!
Ode to Joy

by Ludwig van Beethoven for violin and piano
---
Become a Member to access in the same way all the VSM archives and enjoy incredible discounts on other items for only $37.75 (learn more...)
This is a Virtual Sheet Music high quality digital item that includes:
---
"I can play the basics of this song all day long...."
[show more]
---
About Ode to Joy:
High quality Digital sheet music for violin and piano
This item includes:
PDF
(digital sheet music to download and print),
Interactive Sheet Music
(for online playing, transposition and printing),
Videos
,
MIDI
and
Mp3
audio files (including
Mp3 music accompaniment tracks
to play along)*
Genre: classical, children
Skill Level: easy
This item contains the following parts:
violin, 1 page
piano, 1 page
This item is also available for other instruments or in different versions:
---
Content details (with audio previews):




---
Get the accompaniment video for this!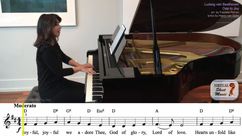 Play Ode to Joy with a real pianist!

Add to Cart Now!
* Included Mp3 files are not real recordings, they are made by high quality sampled instruments and are intended for educational and informative purposes only (
learn more...
)
Top of Page